BEYONCÉ/ALISON POSTCARDS
Instead of holiday cards, each year I like to send a New Years card to my friends and colleagues with an inspirational quote from a true queen—Beyoncé.
2013 (YOU DON'T NEED TO CALL INTO WORK 'CAUSE YOU'RE THE BOSS) was the beginning of my freelance stint.
2014 (I WOKE UP LIKE THIS) was aptly timed with her surprise album release and picked up by Refinery 29's Instagram, garnering some of their most likes (8,295) to date!
2015 (7 TWICE MAN - 7 TWICE) a nod to Bey's 7-11 bonus track and DIY video sensation, rolling sevens twice in a dice game is reference to good luck and money.
2016 (A LITTLE SWEAT AIN'T NEVER HURT NOBODY) according to Rap Genius, when you dance real hard and sweat like Beyoncé, nobody minds.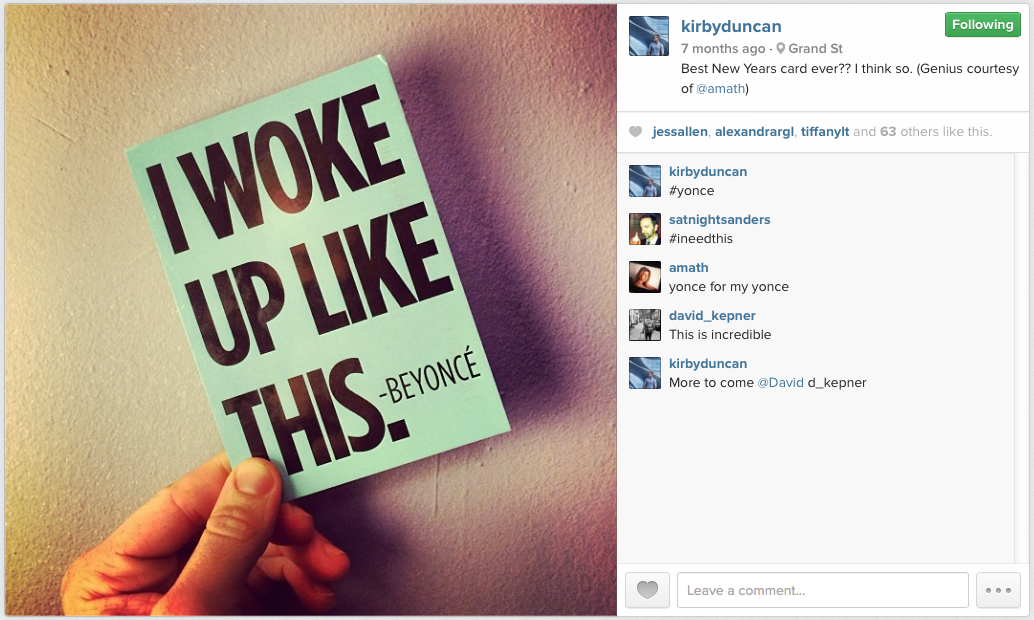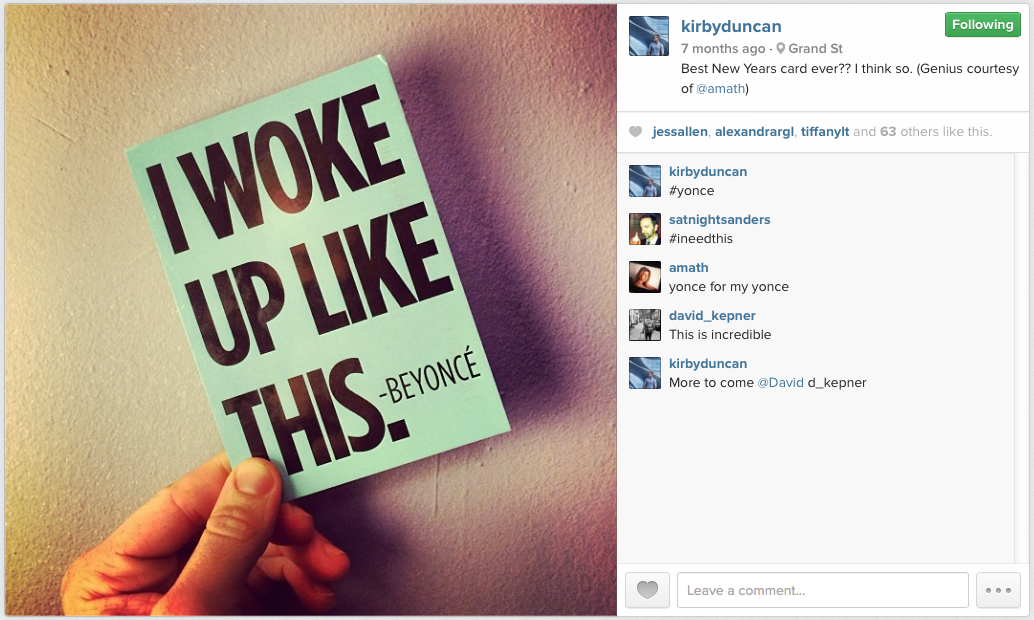 REFINERY29
Most recently, I weighed in on New York Fashion Week's new logo in this post, critiquing:
I've also been tapped to write two guest posts. One about my love of gold, and one about taking a class I'd never experienced before: Aerial Dance.
I helped the Kate Spade novelty department concept and design product, accessories and pattern for their Spring 2014 season, of which each month is themed. One of the pieces selected was my Grand Prix Race Car print chosen by Deborah Loyd to be applied to across apparel as well as tech, novelty and promotion during the month of Monaco.
Working at Kate Spade (both in their novelty department and on the web team) was a dream as the brand really encourages brainstorming, mood-boarding and overall idea development before execution. In an such a fast-paced industry it was refreshing and inspiring to get back to the research > idea > paper > computer process.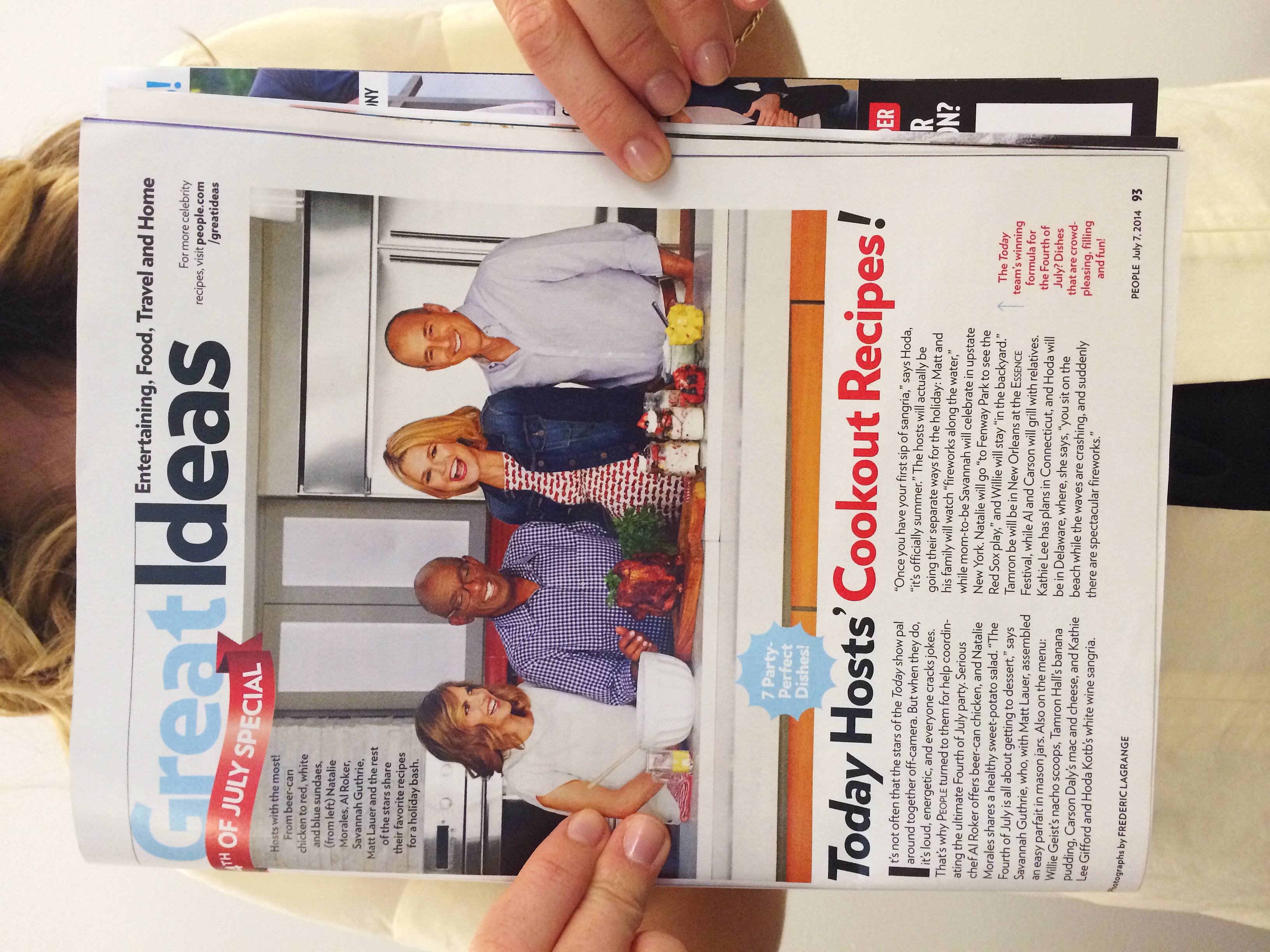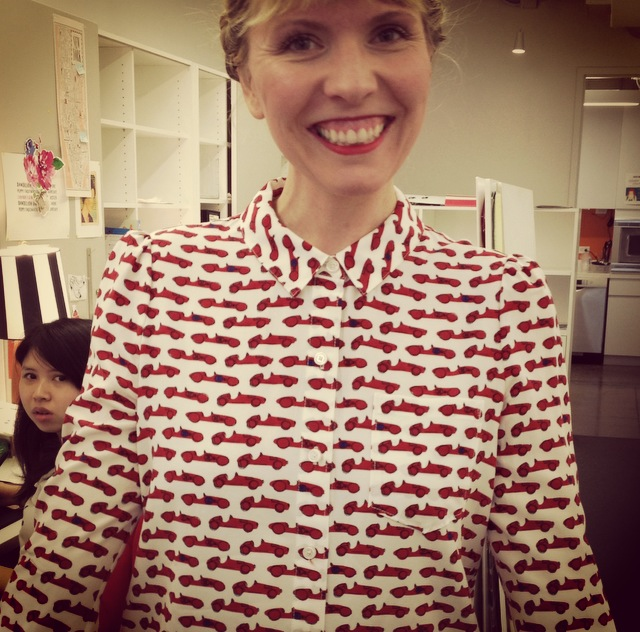 I collaborated with my work muse Kirby to make these enormous emoji hands for easy Governor's Ball friend locating.
UNDERCONSIERATION
After I moved to New York in 2006, I was asked by Debbie Millman to write a guest editorial on my job search and general city experience for Speak Up, a division of UnderConsideration. You can read it Here. Not Anywhere Else.
I was the featured creative on Rangefinder Magazine's On My Radar page of their May 2015 issue talking about my love of the geriatric photo trend (featuring Alex de Mora's shoot for VICE here).